To blow dry, or not to blow dry? That is the question. But the real question is about the blow dryer itself. Does the type of blow dryer you use really matter? What's the difference between tourmaline and ionic? Should I be cleaning my blow dryer? Do I have to use the nozzle? The broad answer is yes—but, read on to see why the type of blow dryer really does matter.
(Image Source: Unsplash / Nicolás Flor)
What Are the Different Types of Hair Dryers
There are thousands of hair dryers on the market, which makes the buying process incredibly confusing at times. With so many different features, types of technologies, components, and add-ons, it's hard to know what you actually need and what will work for your hair type.
The best place to start is by knowing your hair and your hair drying habits. Is it thick, thin, curly, or straight? Do you dry every day or only before special occasions? The mileage your dryer is going to get will play a factor not only in price point but in quality.
The most common dryer types we see are tourmaline, ionic, and ceramic. Though it is also important to consider your dryer's wattage and whether or not it's an "AC" dryer or a "DC" dryer. But what do all these words mean? Let's get into it.
(Image Source: Pexels / Element5 Digital)
Does the Type of Hair Dryer Matter?
The short answer here is yes—but, here's why. When it comes to all the different types of dryers out there, they all have their own purpose or best use case. So let's start with wattage. Wattage is an important factor to consider when buying your dryer as it will apply to all hair dryers regardless of what type of technology it utilizes. The power of a dryer is measured in watts, so the higher the wattage, the faster the dry time. So someone with thicker, coarser hair will find better results from a high-wattage dryer (think 1800W or more), whereas someone with thinner, finer hair can still get the results they are looking for from a lower-wattage dryer.
Once wattage is considered, it is important to consider whether your dryer is "AC" or "DC," not the band, but the current. AC stands for alternating current whereas DC stands for direct current. AC motor dryers are typically preferred by professionals as they are the stronger and hotter of the two. However, if you are a regular consumer, basically someone who isn't using their hair dryer all day every day, a DC dryer will work just fine.
Tourmaline vs. Ionic vs. Ceramic
When it comes to types, the final thing to consider is the type of "technology" your hair dryer is utilizing. Most commonly you will see tourmaline, ceramic, and ionic hair dryers. Tourmaline dryers are actually made with crushed and powdered tourmaline, a semiprecious gemstone, which is then combined into the parts during the construction. This tourmaline base in the dryer allows hair to retain its moisture while locking down the cuticle to create shiny, frizz-free results. But buyer beware, many tourmaline hair dryers and hot tools are actually only tourmaline coated. Always check to make sure that your chosen dryer is actually operating on tourmaline technology as a coating will flake off over the course of time.
Compounded ceramic is another "perk" that comes with higher-quality hair dryers. Ceramic dryers are known for their quick and even heating time, as well as their use of infrared heat. An even heat within your hair dryer means that you are less likely to damage your mane during dry time.
The final most common hair dryer technology seen on the shelves is ionic technology. Hair dryers with ionic technology are fantastic when it comes to fighting frizz. Ionic tech dryers, in short, emit negative ions (like the particles you learned about in science class) which attract positive ions. But what does that mean? When a negative ion attracts a positive ion, they neutralize. When this tech is applied to hair it eliminates static electricity, meaning no frizz and no flyaways.
Best Hair Dryer for Your Hair Type
The Best Hair Dryer for Thick Hair: Drybar's Buttercup Blow Dryer
If you're looking for the best hair dryer for thick or coarse hair, the Drybar Buttercup Blow Dryer is the answer. The ultra-powerful 1875-watt motor mixed with ionic technology will not only speed up dry time for thicker manes but also reduce frizz and boost shine.
Buttercup is also lighter in weight, has a super long cord, and multiple heat and speed settings making the drying process tailorable to your hair type. If this baby is good enough for the professionals behind the bar, it'll surely take care of your mane too.
(Image Source: Ulta.com)
The Best Hair Dryer for Thin or Fragile Hair: The BaBylissPro Porcelain Ceramic Carrera2 Dryer
The BaBylissPro Porcelain Ceramic Hair Dryer is a fan favorite not only for its quality but for its price. This extremely affordable, pro-quality dryer offers gentle, even heat and six heat/speed settings. Those with finer manes will adore this hair dryer and all the heat damage it will save your strands from.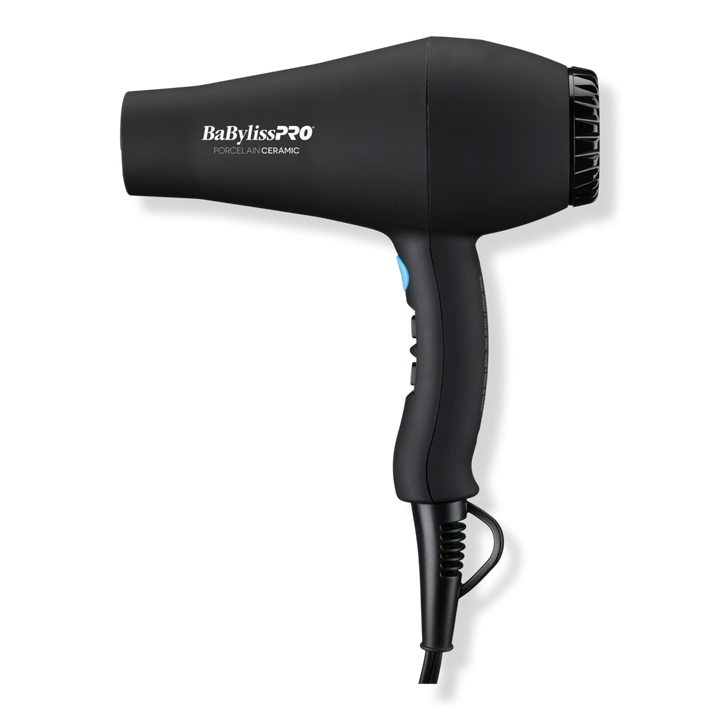 (Image Source: Ulta.com)
The Best Hair Dryer for Curly Hair: DevaDryer and DevaFuser
Curly girls know DevaCurl as one of the most trusted names in the curl industry, so it's only natural that their hair dryer would be top tier. The DevaDryer uses Curl Flexible Alternating Ionic Technology which reduces frizz and allows you to achieve voluminous curls or a super sleek blowout. Paired with their patented hand-shaped DevaFuser, this dryer becomes an unstoppable force of hair-drying nature.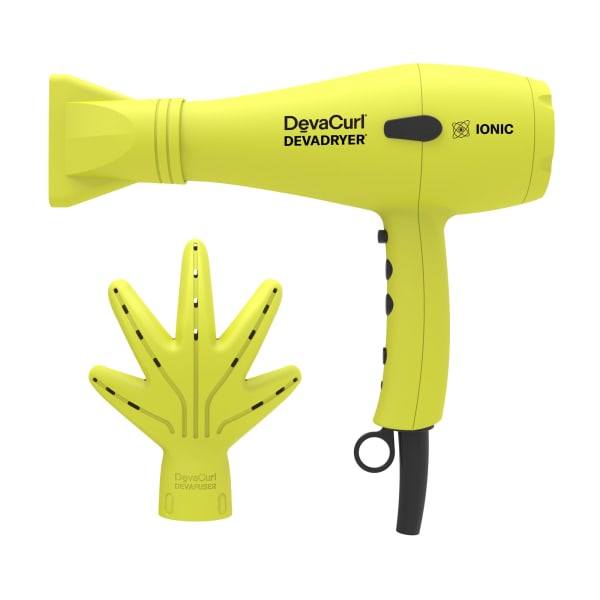 (Image Source: Devacurl.com)