There's no better feeling than stepping out of the salon with smooth, shiny hair. Whether you were in for a color, a cut, or a little bit of both, there's something about that post-service style that leaves you asking, "Why can't my hair always look like this?" The good news is it can! Enter hair glossing, the easiest way to boost shine and brighten your color in little to no time.
Glossing has been making the rounds on TikTok due to the treatment's powerful effects on hair. While hair glossing is typically done in the salon, it can also be done at home for similar results. Here's the low down on everything hair gloss—how it works and how to do it yourself.
(Image Source: Getty / Ryan McVay)
What Is Hair Glossing?
Hair glossing is often thought of as a color service, but not always. This quick semi- to demi-permanent treatment can help boost and even the hue of colored hair, but it can also be used on non-colored hair to increase shine and condition. Either way, a glossing treatment will produce shiny, healthy hair results no matter your shade or hair type.
In the salon, the treatment will consist of your stylist creating the desired gloss, then applying it. These demi-permanent treatments are for licensed professionals only because they require color training and mixing knowledge. At-home versions tend to err on the semi-permanent side so results won't last as long as the in-salon version.
Benefits of Hair Glossing
But what are the benefits of glossing beyond shiny strands and soft locks? Hair gloss treatments can actually help protect your hair from environmental damage, and in some cases, heat damage. Hair gloss treatments can also tone brassiness out of blondes, refresh reds, and richen chocolaty brunettes.
Another way to use hair gloss is as a form of "commitment-free hair color." Because glossing treatments are so light, you can easily add a pastel effect or soft wash to your locks without a permanent commitment. While it won't be the brightest color, it will be a noticeable change.
How to Do a Hair Glossing Treatment
In Salon
To echo what we said before, a hair glossing treatment in-salon is your best bet due to how long the treatment will last. Because salons usually work with demi-permanent hair glosses, the results will last up to four weeks, depending on how often you shampoo. The salon version also offers a wider range of hues if you're looking for a color gloss. Be sure to tell your colorist what you're hoping to achieve.
The treatment itself should only take about an hour from start to finish. Your hairstylist will likely wash and towel dry your hair, then apply the hair glossing treatment from root to tip. The gloss will sit for about 20 minutes, followed by a rinse, condition, and style.
At Home
Hair glossing can also be done at home to refresh your hair dye, though the results may only last a week or two. Following the same method, you would wash and towel dry your hair, apply the treatment for 20 minutes, and rinse, condition, and style. However, do follow the manufacturer's direction depending on the treatment you choose as some call for clean, dry hair.
Best Hair Glossing Products
Kristen Ess Signature Hair Gloss
Kristen Ess has established itself as a go-to, affordable brand for salon-quality products. The signature gloss treatment features an ammonia-free formula and is designed to be used in-shower as it instantly boosts vibrancy and shine for all hair types.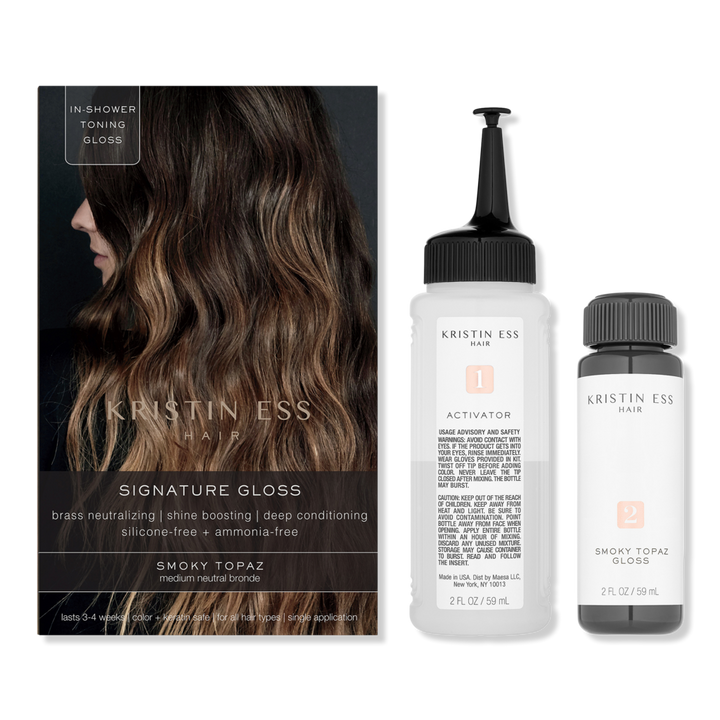 (Image Source: Ulta.com)
Amika Flash Instant Shine Hair Gloss Mask
Inspired by the Korean beauty ritual of splashing nutrient-enriched water onto the skin, the Amika Hair Gloss Mask offers brilliant shine, softness, and hydration in just 60 seconds.
(Image Source: Sephora.com)
Oribe Glaze for Beautiful Color
Oribe is legendary. The super luxe hair care line has made a name for itself as one of the best in the biz, and their hair glossing treatment is no exception. The shimmering, conditioning glaze adds intense shine, brightens color, and silkens strands for luminous hair.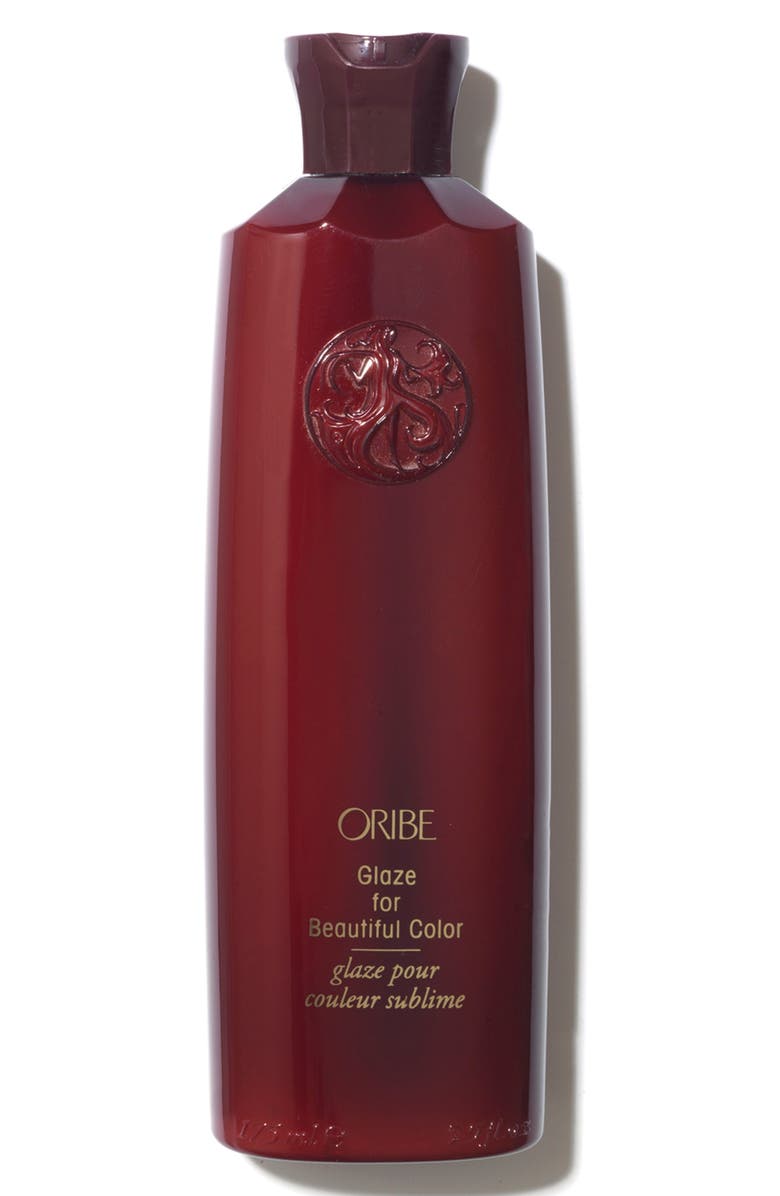 (Image Source: Oribe.com)
XMONDO Super Gloss Intensive Glossing Treatment
Pro stylist Brad Mondo created the high-performance XMONDO Hair Care with your hair's health in mind. Super Gloss is an easy-to-use treatment that delivers high shine, prevents breakage, and helps rebuild bonds within the hair using vegan proteins.
(Image Source: Amazon.com)
dpHUE Gloss+
From black to blonde, strawberry to sheer, dpHue's Gloss+ treatment has a range of shades to help re-pigment your mane. Enhance color, shine, and softness with this easy one-step treatment in the comfort of your own home.
(Image Source: Sephora.com)
R+Co Gemstone High Shine Gloss
The goal of hair glossing is to add incredible shine, like a diamond. R+Co's Gemstone High Shine Gloss provides deep hydration, enriches the color, and seals damaged ends to make hair reflect like glass. Its iridescent, rich creme formula refreshes hair for a vibrant, shiny, salon-like color that's UV protected.
(Image Source: RandCo.com)
TRESemmé Clear Gloss High-Shine Deep Conditioner
Clear glosses are an excellent choice for any and every hair color and type. The TRESemmé High-Shine treatment helps boost color vibrancy and shine between salon visits in only three minutes.
(Image Source: Walmart.com)