Twee hair is trending, ballet-chic is back, and hair accessories are rising in popularity once more. With the return of these former fashions, it only makes sense that hair ribbons would find their way back to adorning our ponytails and top knots. From every day to bridal, to braided ribbon crowns and red carpet accents, here are some of our favorite hair ribbons for 2022.
Soft Femme Chic: The Long White Bow
This Darling Pearl Bow Pony from Free People adds a chic yet feminine touch to any hairstyle. The ribbon itself is fashioned into a bow and attached to a scrunchie for easy styling. The lengthy tails and attached pearls give off a major "cute girl at the coffee shop" vibe or "sweet yet mysterious woman hiding behind a stack of books" look.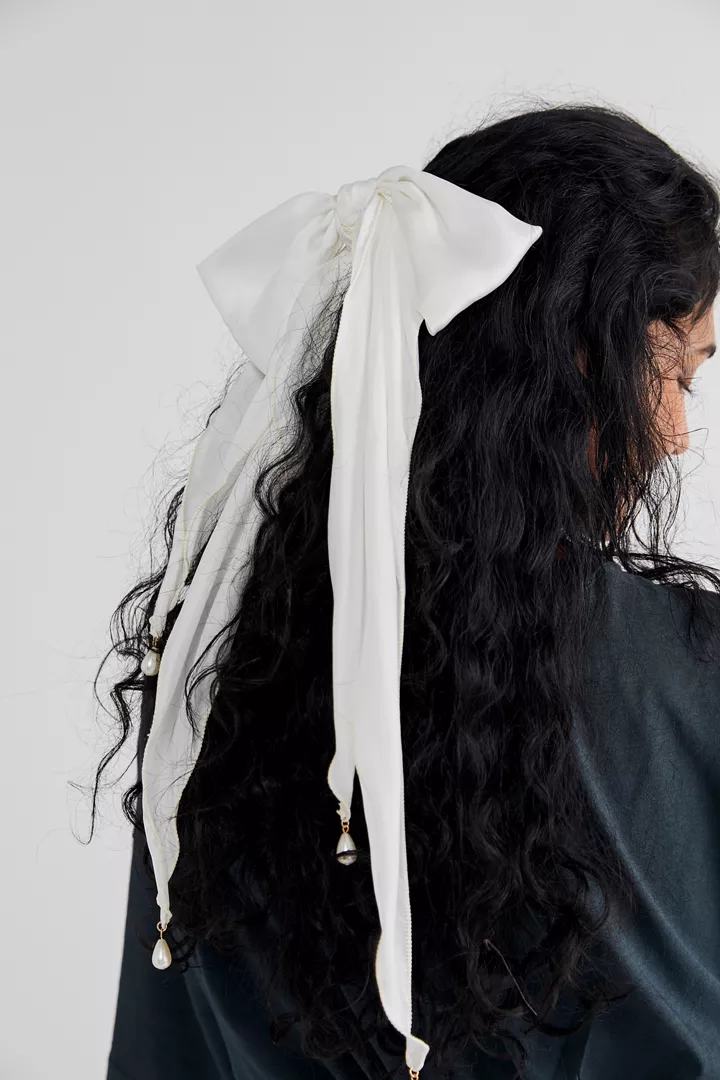 (via Free People)
Everyday Boho Babe: Mini Floral Ribbon Ties
If you like the braided ribbon crown trend or lean towards more of a boho look, then a mini floral ribbon tie is for you. These ribbon ties are left loose, leaving you with more styling options beyond a traditional bow. Believe it or not, you can snag six of these adorable everyday hair ribbon ties from Shein for only $2.50! With the cost of everything going up, it's hard to ignore a good deal.
(via Shein)
Alluring Yet Understand: A Small and Simple Pony Bow
Free People has got the lock on hair accessories as of late, and this small and simple bow scrunchie is no exception. A small bow or ribbon can add a touch of interest to an otherwise easy ponytail or bun. Use this to dress up an outfit when running errands or to pull your hair back before your next Zoom meeting. The best part? This bow scrunchie comes in a wide variety of colors, from black to plaid, and patterns too.
(via Free People)
Elegant in Velvet: A French Velvet Bow Hair Tie
This long, French Velvet Ribbon Tie from Etsy is a bestseller. If you find yourself missing that little something to elevate your look, this velvet ribbon tie will definitely contribute. An effortlessly chic piece, this is an accessory that everyone should keep one or two of in their styling arsenal.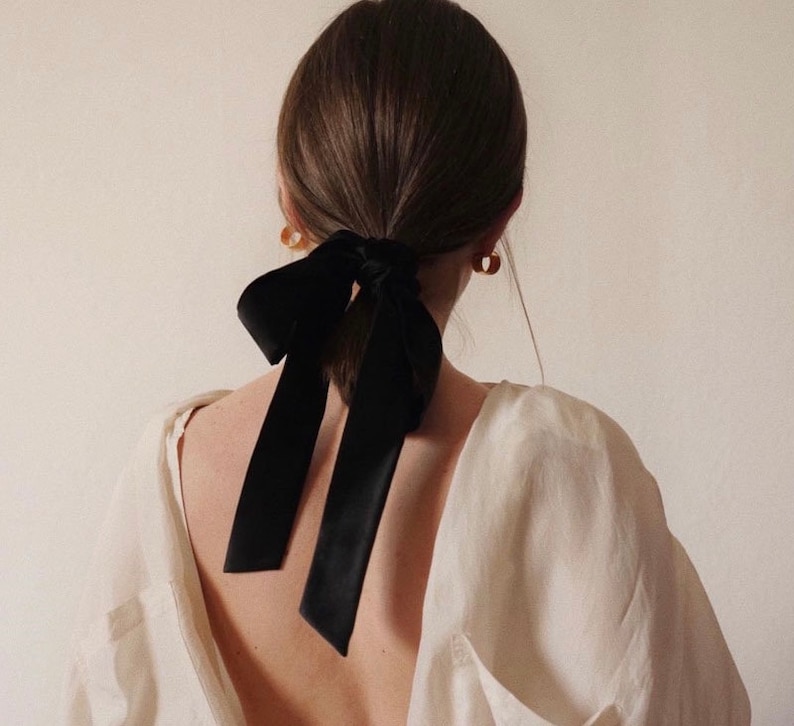 (via Etsy)
Neutral Details: Terra Cotta Crepe Scrunchies
Neutrals are in, and most likely won't be going away, so grab yourself some crepe scrunchie ribbons to match these trending tones. The Terra Cotta Crepe Scrunchie pack from Kitsch comes with two scrunchies fashioned into bows and attached to the tie for easy use. The Kitsch Crepe Scrunchie pack also comes in black and moss green.
(via Kitsch)