Halloween is officially here! Do you disagree? Just ask the internet and the plethora of #CodeOrange content already making the rounds. With our fave spooky holiday just around the corner, it's time to start gathering Halloween hair ideas and planning our Halloween hairstyles. If you're searching for something easy to do with your mane this Halloween, or even the perfect coif to compliment your costume, then read on. Below are 15 easy Halloween hair looks and how to get them!
Classic Orange and Black
Halloween lovers and Hallo-Queen's will appreciate this look. A classic orange and black block color is perfect for showing off just how much you adore this time of year. While this look requires a bit of commitment and a color appointment, if you're Halloween-obsessed, then that shouldn't be a problem.
Get the Look
Stay away from highlights when going for this Halloween hairstyle. Big blocks of expertly placed orange and black are what make this hair color look good and stand out.
Manic Panic's Psychedelic Sunset Semi-Permanent Color
The perfect orange can be hard to come by, but if you're trying this look at home, reach for Manic Panic's Psychedelic Sunset. This super orange, semi-permanent dye produces one of the most beautiful true orange tones we've ever seen.
(Image Source: ManicPanic.com)
Hellraiser Braids
These Pinhead-inspired braids will have "such sights to show you!" This easy Halloween hairstyle is cool enough on its own, no costume required.
Get the Look
Like most braided looks, you are going to need a good finishing spray and small rubber bands. But for this Halloween hair costume? You're going to need nails.
Masonry Nails
Opt for a dull nail when creating this look at home, like this box of masonry nails from Lowes. Using a dull nail will help protect you, and your fellow partygoers, from any accidental injuries.
(Image Source: Lowes.com)
Bride of Frankenstein
The best thing about Bride of Frankenstein's hair is the messier, the better. Let your frizz run free like you just rolled off of Dr. Frankenstein's operating table.
Get the Look
Bobby pins and hairspray are definitely required to recreate this Halloween hair look. But the key factor in making this style recognizable is the Bride's signature white streaks just above the ear.
Ben Nye's Snow White Temporary Hair Color
Ben Nye is a legend amongst the special effects and theater makeup community. This temporary brush-on, liquid white dye is perfect for creating Bride of Frankenstein streaks or even old-age makeup.
(Image Source: StageMakeupOnline.com)
Rainbow Pumpkin Undercut
Undercuts are great because they grow out fast. Use this to your advantage! Add a little Halloween-themed art to your undercut this season and show off your spooky side when you pull your hair up.
Get the Look
Trying to style the back of your neck at home can get a bit complicated. If you aren't planning on going to the salon for this Halloween hair look, try something more temporary at home.
Purple Ladybug Hair Chalk Set
Sure, this hair chalk set is aimed at young kids, but based on reviews this hair chalk is one of the best out there. Simply whip up a stencil at home with a piece of paper, apply it to the back of your head, and chalk away.
(Image Source: Amazon.com)
Cute But Creepy Clown
A costume and creepy makeup are always important to a good clown costume, but perfect pigtails really tie this look together—especially with the addition of pom-poms.
Get the Look
There is something perfectly weird about an adult clown wearing pom-poms in their pigtails. If you're going for that creepy vibe, definitely grab some of these.
Pom-Pom Decor Hair Ties
Ten pieces for $2? Sounds like it's time to make some creepy clown bubble braids with pom-poms all the way down.
(Image Source: Us.Shein.com)
Space Age Maleficent
We love this look. It's as if Maleficent's horns were made of cotton candy. This eye-catching hairstyle doesn't need a costume, but wouldn't it look great with a dayglow cape instead of black?
Get the Look
A heap of glitter is key to making this look stand out. With all the different types out there, there is one you should definitely try.
Chunky Hair Glitter from CAI BEAUTY NYC
Cai Beauty's super chunky hair and body glitter is known for its high shine and staying power. Plus, its cruelty-free ingredients and cosmetic grade rating make this bag o' glitter worth the price.
(Image Source: Amazon.com)
Spiderweb Undercut
This creepy-cool undercut is definitely one you'll want to be done in the salon in order to achieve the perfect web. Again, the joy of an undercut? They grow out fast. So your neckline will be back to normal a few weeks after Halloween.
Get the Look
We don't recommend trying to achieve this look at home so be sure to book a session at a salon to get this spiderweb undercut. You will absolutely regret trying to do it yourself.
An Elvira-esque Bouffant
The Mistress of the Dark would be so proud of this bouffant. While the blonde pieces do give off a Lily Munster meets Bride vibes, this sky-high coif feels tried and true Elvira.
Get the Look
Huge, out-of-this-world hair is what you need to complete this look. To create a bump this big, you're going to need more than your standard comb and spritz.
Goody Volume Boost Teasing Comb Kit
This Volume Boost Teasing Comb Kit from Goody is the perfect set of tools to achieve sky-high Elvira hair. Use the teasing comb to backcomb down to the roots, then reach for the boar bristle brush to smooth out any uneven surfaces.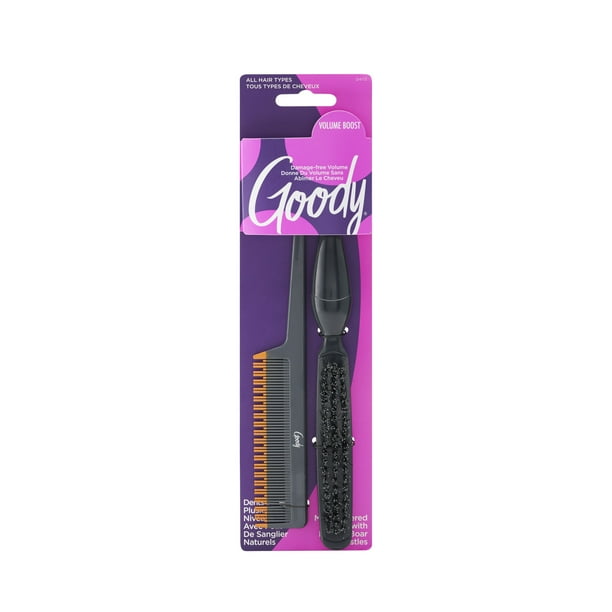 (Image Source: Walmart.com)
Candy Corn Color Melt
Here's another Halloween hair look for our dye-hards. This sweet style is perfect for spooky season.
Get the Look
If you're worried about having candy corn-colored hair all year long, don't be. Semi-permanent colors can be used to achieve this look at home, or in the salon. Plus, once it fades out, you'll be left with a gorgeous and warm blonde ombré that won't look corny at all.
Arctic Fox Semi-Permanent Hair Color in Porange and Neon Moon
$11.99 on ArcticFoxHairColor.com
Arctic Fox makes incredible hair color that is non-damaging, easy to use at home, and fades beautifully. Their colors Porange and Neon Moon would be the perfect tones to recreate this Halloween hair costume.
(Image Source: ArcticFoxHairColor.com)
Wild Wizardess Hair
Half of being a Witch or Wizard for Halloween is the hat, but the other half is the hair. If "witchy forest maiden" is on your Halloween hair and costume list, remember to get a little wild with it. Long, naturally textured locks fit this costume perfectly, and the addition of hair feathers and wraps can take this Halloween hairstyle the extra mile.
Get the Look
Incorporating feathers, twigs, beads, and yarn will help sell this costume. If you're looking in the mirror saying, "is this too much?" The answer is no. Witches are collectors, so the more the merrier.
Feather Hair Clips
These feather hair clips from Amazon are easy to snap in and out of your hair during styling. The natural colors used in these feather clips will blend seamlessly with your natural color, and add an extra pop of texture beneath your Witch hat.
(Image Source: Amazon.com)
Sneaky Devil Horns
Using your own hair to create devil horns is incredibly clever and easy. If you have bangs or short layers on top, this style should be no problem for you. Pair your new hair horns with a killer outfit and a pitchfork prop if you feel like it.
Get the Look
This Halloween hairstyle may be easy in theory, but the hard part is getting the horns to stay up. You're going to need a hard hold gel for this one. Embrace the crunch!
Got2b Ultra Glued Invincible Styling Hair Gel
Many of us wouldn't normally reach for an extreme hold hair gel on a daily basis, but they certainly come in handy. Got2b Glued has been making extreme hold hairsprays and gels for ages, and boy do they work. A palm full of their Invincible Styling Gel will keep your horns held high all Halloween night.
(Image Source: Amazon.com)
Perfect Princess Hair
When we think princess hair, we typically think long, flowing, impossible to achieve. But nowadays, princess hair can be any length, any color, or any style. But to truly look like royalty, you're going to need a crown.
Get the Look
No matter how you choose to wear your hair, you are a queen in your own right. You just need a crown to prove it.
Crystal Queen Tiara
Amazon has a ton of affordable, adult-sized tiaras and crowns. This particular Crystal Queen tiara is one of the highest rated due to its believability amongst the cosplay community. If this crown is good enough for professional customers, then it's perfect for your Halloween hairstyle.
(Image Source: Amazon.com)
Trendy Lily Munster
Leave it to Lily to keep up with the trends. This sweet take on the Lily Munster hairstyle combines the modern-day half-updo with classic, white striped hair. Part vintage, part contemporary.
Get the Look
Though it may look easy, this Halloween hairstyle is actually a bit more complicated. So how can you create the classic Lily stripe? Cue Manic Panic.
Manic Panic's Dye Hard Gel in Virgin
Manic Panic's line of Dye Hard Gel is the holy grail for this Halloween hair costume. Start by prepping your hair as you normally would. Once you have every strand where you want it, go in with a squeeze of Dye Hard last. Because this temporary color also acts as a hair gel, it's going to stay where you put it and mix well with your other gels and creams.
(Image Source: ManicPanic.com)
Spooky Spider Glam
This multi-strand pony is giving major Halloweentown Gala vibes. Sophisticated yet spooky, this low-key Halloween hairstyle could actually be worn year-round (sans spiders).
Get the Look
While the foundation of this Halloween hair look may take a little practice (swipe the post above for a tutorial), the décor is the finishing touch and most eye-catching aspect.
Black Rhinestones
With a little hair glue and this 3,000pc black rhinestone bundle from Amazon, you'll be set. Do you need that many rhinestones? Probably not. But now you'll have them all year round to adorn anything, and everything, that you like!
(Image Source: Amazon.com)
Medusa Braids
If you're a mythology fan, then you'll love this Halloween hair costume. But don't look too long! You may turn to stone. It's easy to create a Medusa-inspired hairstyle at home with a few braids and a lot of plastic snakes.
Get the Look
Don't let the braiding intimidate you. Like all of us, Medusa isn't perfect, and perfect hair isn't Medusa's style. Braiding and pinning random sections of hair around the head will create the perfect amount of messiness- and places to tuck in your plastic snakes.
Glow-In-The-Dark Snake Filler from Michaels
While you can use any type of snake for this Halloween hair costume (well, maybe not any), we recommend these glow-in-the-dark mini snakes from Michaels craft store. Imagine how cool your mane will look all wrapped up with glowing snakes when you walk into the Halloween party that night. Just don't forget to charge them under daylight before styling.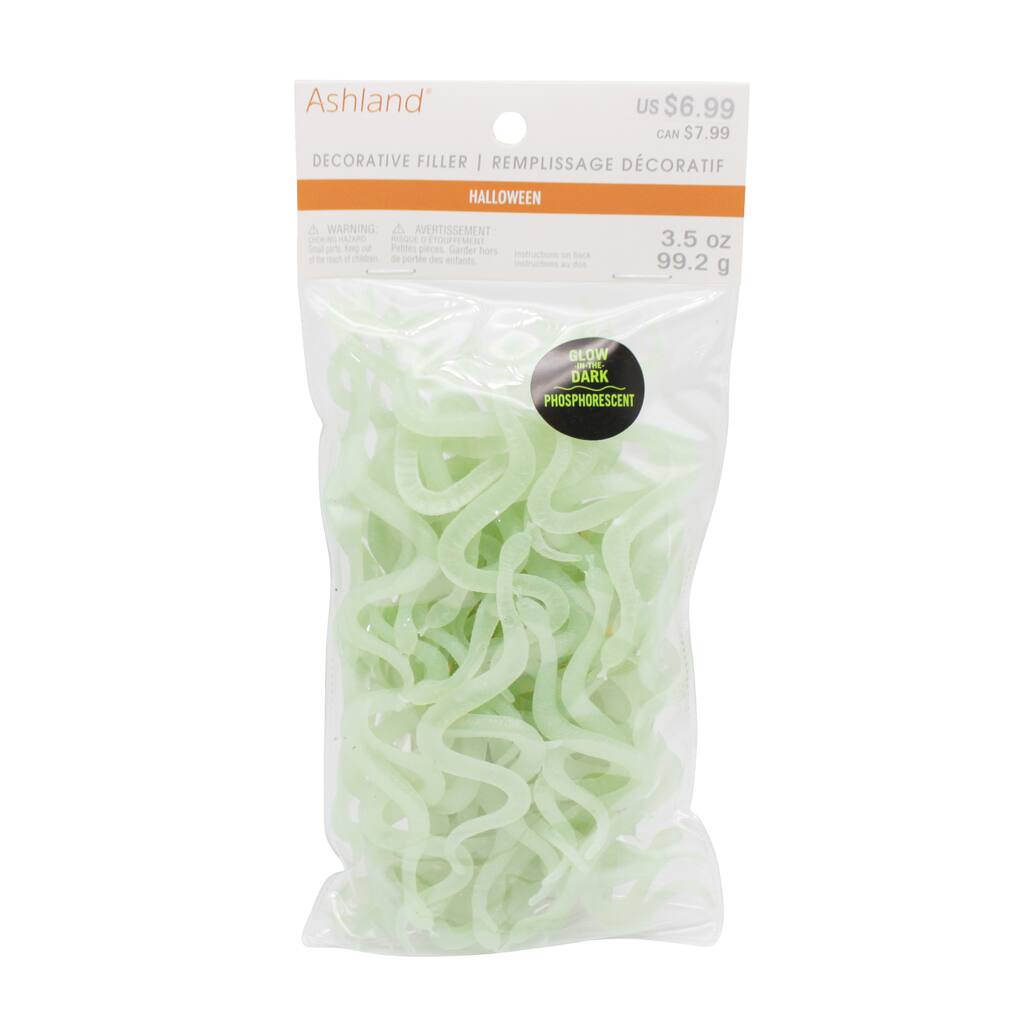 (Image Source: Michaels.com)