Sometimes, it's just too hot. Too hot to go outside, too hot for makeup, and too hot to do your hair. Unfortunately, there are many cases where we need to find a way to beat the heat to get our manes prepped and styled for work, an event, or just because. If the idea of holding a flat iron near your head sounds like torture, don't fret! Here are the five best heatless hair tools. No heat is necessary for these wet set styling tools.
1. Kitsch Satin Heatless Curling Set: $16
Let's start with a heatless hair tool we've all seen, but maybe aren't sure which brand to buy. Yes, this is a heatless robe curling headband similar to the one we've all been eyeing after seeing Cassie's 4 a.m. routine on Euphoria. Now, this may not be the one used in the show, but it is one of the most affordable versions that also boasts fantastic user reviews.
The Kitsch Satin Heatless Curling Set will create gorgeous, bouncy curls without the heat or damage from hot tools. The satin material also helps reduce frizz and fragility when styling. Worn day or night, this easy to use wet set tool will also create longer lasting curls and waves. In fact, wet to dry styles can last up to five times longer than your typical iron work on dry hair.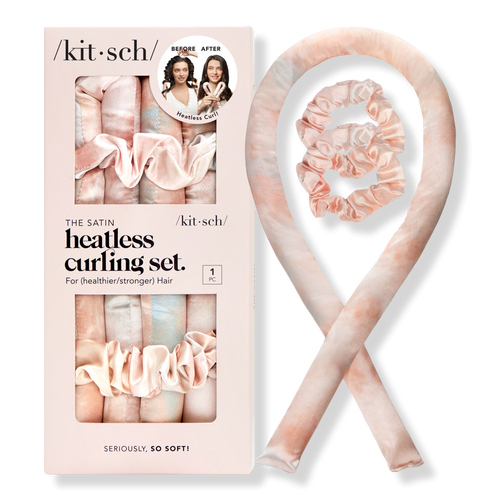 (Image Source: Ulta.com)
2. Cotton Poplin Octocurl: $29.99
The Octocurl headband gets its name from the fact that it literally looks like an octopus. Similar in fashion to the heatless hair tool above, the Cotton Poplin Octocurl is better for those with thicker hair, or hair that takes awhile to dry. Its 16 wrappable strips allow for more space between curls and more definition. Additionally, Octocurl offers a variety of material and length choices. The Cotton Poplin set is the most popular and is considered the "middle ground material" due to it's incredible absorbency and it's ability to still smooth and defrizz.
(Image Source: Octocurl.com)
3. Waveformers Ripple Flair Styling Kit: $33.57
Wave formers and curl formers have been around for a minute, but this Ripple Flair set is one of the most popular. A wave like this can be created with a flat iron or waving iron, but a heatless hair tool option gives us the ability to create a wavy mane without the damage. The Ripple Flair Styling Set comes with 40 Ripple Flair Waveformers, two styling hooks, and is designed to be used on hair that is about 50% dry. For best results, section your hair with a zig-zag parting to create a more natural, seamless look.
(Image Source: Hairflair.com)
4. Flexible Curling Rods by XNICX: $12.30
Flexible curling rods, or flexi rods, have been a mainstay in the wet set tool world for well over a decade. Now that their availability is more widespread beyond beauty supply shops and schools, flexi rod sets have been increasing in popularity.
Like other heatless methods, the hair is wrapped around the rod then secured with a clip or elastic, or by bending the ultra flexible shaft in half or into a pretzel like shape. The biggest complaint about flexi rods is that after a few too many flexes, the wire inside will break. On the bright side, this affordable set comes with 47 pieces in case you lose or snap a few.
(Image Source: Amazon.com)
5. Classic Silk Scarf by Sienna Naturals: $45
A silk scarf may not seem like the heatless styling tool you are missing, but it really is. A high quality satin or silk scarf will protect your heat-free hairstyle at night, and it can actually help create one. Braiding a silk scarf through long hair, or wrapping your lengths around it similar to the robe curling headband, will also create flowing, angelic curls overnight, or throughout the day. The luxury silk scarf from Sienna Naturals is a must-have not only for its large size and superior quality, but the Celebration pattern was also designed by a local Black artist from Los Angeles. The Celebration pattern honors the beautiful versatility of textured hair and how its shapes and styles are reflected in nature.
(Image Source: Siennanaturals.com)