Holographic everything has been on the trend charts for quite some time. With the Y2K revival still in full swing, it's no surprise that we've been seeing holo makeup, holo fashion, and holo nail sets taking off. It's no wonder holographic hair dye and hair color would follow. The latest, brightest way to incorporate a rainbow of tones into your aesthetic. Learn all about holo hair dye below!
What Is Holographic Hair Dye?
Holographic hair colors are often described as otherworldly, in part because they almost don't look real. To create a holo hair look, a color specialist will expertly place various pastel hues throughout the hair creating a color-shifting effect. Techniques used to create this shift can range from highlight patterns to color melting. These high-gloss, multi-dimensional colors cause light to reflect on the hair in a magnitude of directions, often making the color shift appear as if you're wearing 3D glasses.
While most holographic hair colors consist of pastels on blonde hair, there are ways to create this look on darker hair colors. However, regardless of your hair's canvas color, there will be some bleaching involved to create the bright tones needed for the holographic effect.
How to Get a Holographic Hair Color
Holo hair is no easy feat. Overall, we definitely recommend visiting a salon to achieve this trend. Because this look requires a lot of particular placement and small strands of color, a stylist will be more equipped to give you the look you desire.
In the Salon
If you're taking this trend to the chair, always bring inspiration. Communicating with your stylist using inspiration photos is a huge help when it comes to making sure that everyone is on the same page. Be sure to use terms like "vivid," "color shifting," "pearlescent," and of course "holographic," to convey the type of tones you are going for. Additionally, discuss the maintenance routine with your stylist so that you know what you are getting into when keeping up with this color. Because most colors used in a holo hair dye are semi-permanent, you will likely find yourself back in the chair more frequently.
At Home
While most stylists wouldn't recommend trying this at home, many of you will. If you are dead set on trying this color technique on yourself you should keep a few things in mind. First off, you will most likely need to use bleach. Hair bleach can cause a lot of damage if not used properly, so start off with a low-volume developer and take your time.
If you've made it past the blonding or are already blonde, remember that dimension is key to creating this hue. Opt for several colors that work well together and apply them via small highlights, or strands, throughout the hair. Most importantly, remember to blend. A good blend is what makes this color pop. Too streaky and you'll be left with rainbow stripes.
Things to Consider Before Trying a Holographic Hue
Holographic hair color requires care and maintenance. If you're thinking about trying the trend, consider what you are willing, or are able, to do to keep up with it. As mentioned before, semi-permanent colors are going to be at the root of this look. Semi-permanent hair color fades much faster than permanent hair dye. To keep your holo hair fresh, an every four to six-week appointment will likely be required.
Semi-permanent colors also require special care in the shower. Color-safe shampoos and conditioners will be your best friend along with a cool rinse and wash routine. Washing your hair with cool water will extend the life of your dye, whereas warm to hot water will actually open up the hair's cuticle, causing the dye to fade faster.
The final thing to consider when trying holographic hair dye is the cost. Vivid colors and special techniques often cost much more than your standard all-over color or partial highlight—and for good reason. These techniques require an expertly trained hand to accomplish them, and you are paying for that expert hand. While it is always best to call for a consultation and an estimate before any major color service, it is possible that you could be paying upwards of $300 or more for a holographic hair dye service.
Best Holographic Hair Dye
Professional stylists have access to a wide array of the best colors and formulations out there, but if you're sans license and looking to try this color trend at home, here are a few product recommendations.
The Unseen Color Alchemy
Color Alchemy by The Unseen is the perfect way to try holo hair at home. This non-permanent formula only lasts till the next wash, but its results are out of this world. Simply paint or comb the color through dry hair, then dry with a hair dryer or leave it to dry naturally. Color Alchemy's unique structured light technology reflects only specific wavelengths of color to its viewer, so as the temperature changes, so does the color. As an added bonus, Color Alchemy works on light or dark hair, so no bleaching is required.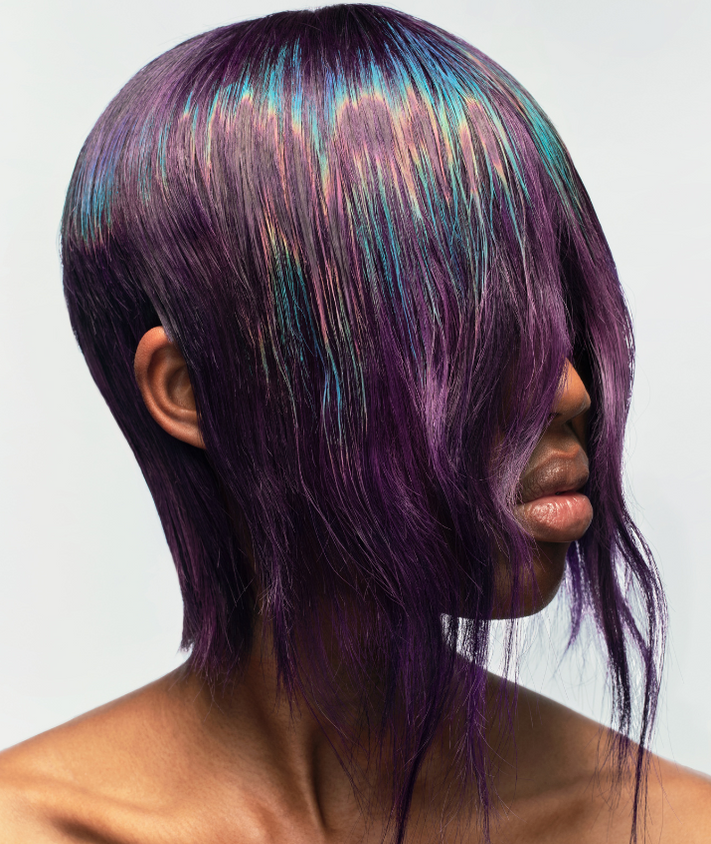 (Image Source: TheUnseenBeauty.co.uk)
Manic Panic Creamtones
Manic Panic is a long-trusted semi-permanent dye brand that makes a wide variety of colors. But their Creamtones line is a fan-favorite when it comes to creating holographic hair. Creamtones is geared towards blondes as it does require level 10+ hair to use, but when used in conjunction with the holo hair technique, the results are perfectly pearlescent and stunning.
(Image Source: ManicPanic.com)
Lunar Tides The Bubble Pack
Lunar Tides has created the best holographic hair dye bundle for anyone wanting to try the look at home. While these hues will require some prior bleaching, the fact that they include every color you need to create a seamless color shift is unheard of. It's like this bundle is just begging you to go full holo!
(Image Source: LunarTidesHair.com)
Arctic Fox Semi-Permanent Colors
$11.99+ at ArcticFoxHairColor.com
Another tried and true semi-permanent dye brand is Arctic Fox. Their range of colors can help you accomplish any version of holographic hair color you may be going for. But the best part? Many of their colors are UV reactive, meaning your color will shift in more ways than one. Even better, Arctic Fox makes a Color Diluter in case any of your chosen colors aren't pastel enough.
(Image Source: ArcticFoxHairColor.com)