Struggling with lifeless, dull, drab hair is more common than you think, and can have many root causes. But one that often gets overlooked is product buildup. As style trends wax and wane and we try all sorts of new things on our manes, a lot of product is often left behind. Hairsprays, mousses, styling gels, hair oils, the list goes on. Excessive use of these products can cause product buildup, and actually damage and impede hair growth over time. The good news is there are several ways to banish it. Scroll below for some ways to remove product buildup from hair!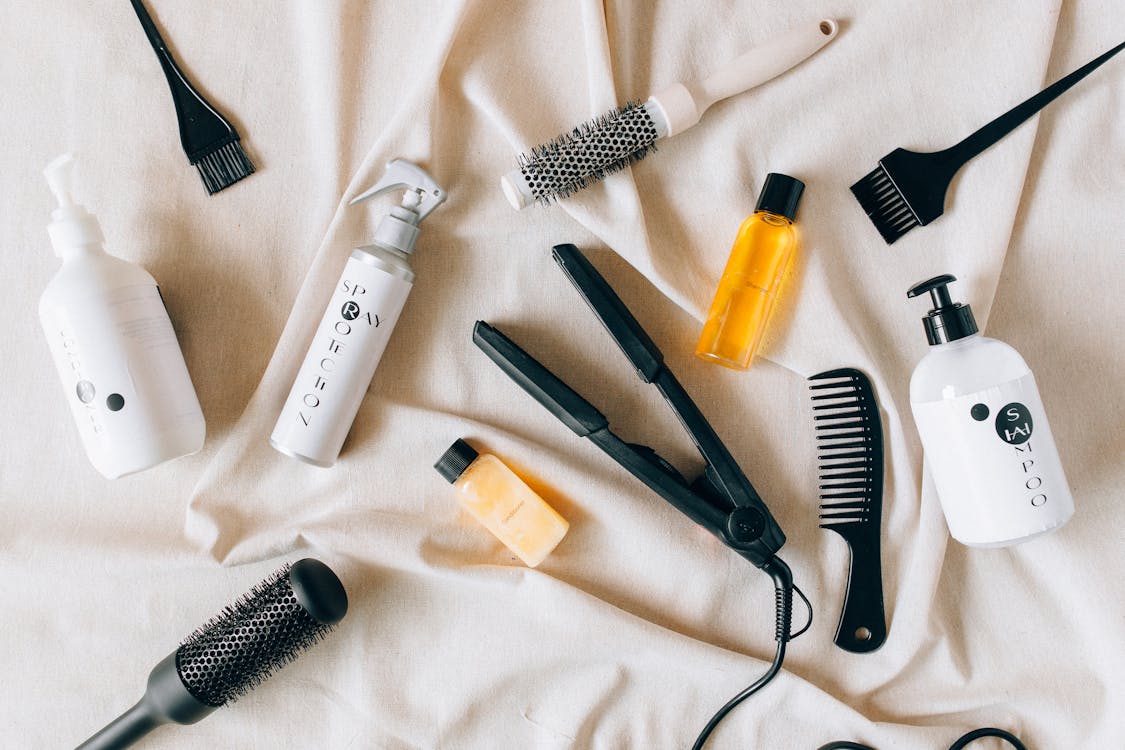 (Image Source: Pexels / Nataliya Vaitkevich)
Ways to Remove Product Buildup From Hair
As scary as product buildup sounds, there are several easy ways to remove buildup and heal your hair moving forward. Along with removal, it is important to keep prevention in mind.
Revamp Your Routine (Where You Can)
Before we dive into ways to remove product buildup from hair, let's talk about prevention. Start by altering your hair routine where, and when, you can. A simple shift in how often you add styling products to your hair, and how many you use, can help avoid future product buildup issues. Nowhere to go and nothing to do? Skip the styling routine. Have a day when you can opt for a more casual style? Try an upstyle, braided look, or grab a hat or a head scarf. Even one less day of product use can make a huge difference.
Invest in a Clarifying Shampoo
Clarifying shampoos, often called "Sunday Shampoos," are one of the easiest ways to remove product buildup from hair. While your standard shampoo is formulated to remove everyday oil and dirt, clarifying shampoos are made to clear the hair of all buildup completely. Clarifying shampoos can be used once a month, or once a week if you tend to use more products than most. However, it is not recommended to use a clarifier more than that. Overuse of clarifying shampoos can lead to dry, brittle hair, dry scalp, hair color fade, and can strip your hair of necessary natural oils.
Hop on the ACV Train
Apple cider vinegar is not a new trend. Many people have sworn by its benefits for decades. But did you know it can remove hair product buildup too? If your hair is feeling bogged down by product, try mixing one part ACV with one part water and apply it to your mane. While you can apply with a spray bottle or by pouring directly on your head, it is best to use this mixture as a rinse after shampooing. The ACV will help remove buildup and residue in the hair while detangling your lengths and closing down the hair's cuticle for shiny, smooth locks.
Try Micellar-Based Products
Micellar water is another "holy grail" ingredient seen across beauty shelves. From skincare to hair care, micellar water is a great way to cleanse without stripping your hair of its natural oils. While we wouldn't recommend dumping straight micellar water on your hair, there are plenty of shampoos and products out there that offer micellar water as the main ingredient. Micellar-based shampoos are favored by professionals and clients alike as they tend to be more gentle than clarifying shampoos while still getting the job done. Remove product buildup from your hair by washing with a micellar-based routine weekly, but not much more. Like Sunday shampoos, micellar water can still over-cleanse the hair if used too much.
Banish With Baking Soda
Is there anything that baking soda can't do? Clean your kitchen, deodorize your home, whiten your teeth, and now, remove product buildup from your hair. This household product is not only cheap but easy to add to your routine when needed. Simply add a tablespoon of baking soda to your shampoo when you wash, or for a deeper clean, create a baking soda paste and apply it to your lengths. Mix two parts baking soda to one part water and mix into a paste, apply to damp hair, and let sit for about 15 minutes. After rinsing out the baking soda mixture, simply shampoo and condition like normal, and move on with your day.
Best Products to Remove Product Buildup
Beyond home remedies, here are some of our favorite products on the market to remove product buildup from your hair.
OUAI Detox Shampoo
Powered by apple cider vinegar, OUAI's Detox Shampoo is perfect for clarifying and cleansing away dirt, oil, and product buildup. As an added bonus, this detox shampoo can also remove hard water deposits in the hair, leaving your mane feeling refreshed and super clean.
(Image Source: Theouai.com)
Maria Nila Eco Therapy Revive Shampoo
Maria Nila's Eco Therapy Revive Shampoo uses micellar technology to detox the hair and smooth and moisturize. Say goodbye to impurities and residual product buildup. This Ecocert-certified brand uses botanical proteins to help cleanse the hair and keep their line 100% vegan and animal friendly.
(Image Source: MariaNila.com)
Kristin Ess Deep Clean Clarifying Shampoo
Kristin Ess has made a mark on the hair product industry with affordable, salon-quality hair care, available at many major retailers. The accessible nature of the brand has made Kristin Ess Hair Care a fan favorite, and their Clarifying Shampoo is one of the most popular. This affordable Sunday shampoo is perfect for removing mineral deposits, product buildup, and excess oils.
(Image Source: Amazon.com)
Carol's Daughter Wash Day Delight Sulfate Free Shampoo With Rose Water
This micellar-powered, vegan shampoo from Carol's Daughter is the perfect wash day companion. Created to cleanse and treat curly hair right, Wash Day Delight uses a water-to-foam formula infused with rose water to clean the hair without stripping or harsh friction. Silicone-free, sulfate-free, and paraben-free, Wash Day Delight will remove product buildup from the hair and is recommended for 4C, 4B, 4A, 3C, 3B, and 3A hair types.
(Image Source: Carolsdaughter.com)
Olaplex No. 4C Bond Maintenance Clarifying Shampoo
Another fan favorite is the brand Olaplex, and their new Clarifying Shampoo lives up to the brand's now legendary reputation. The Bond Maintenance Clarifying Shampoo was created to banish product buildup. Like all other Olaplex products, your mane will feel restored and rejuvenated after using its new clarifier. Designed to be used once a week in place of your regular shampoo, the No. 4C Clarifying Shampoo will remove impurities, product buildup, detox your scalp, and restore your hair's bounce and shine.
(Image Source: Sephora.com)