You can find them perusing old bookstores and thrift shops, indulging in any and all witch-related television, or meeting with their "coven" at the local cafe. When it comes to fashion and aesthetics, witches are everywhere.
With Halloween around the corner, it's no surprise that all things witchy are popping up—but there are those who are interested in witchery year-round and subscribe to the witchcore aesthetic. But what is witchcore anyway? Beyond the black-on-black-on-black and dark and moody aesthetic, there is much more to witchcore. Here's your guide to the ins and outs of the latest 'core trend!
(Image Source: Pixabay)
What Is Witchcore?
Like most 'core trends, the big takeaway is in the name. Witchcore in many ways is precisely how it sounds—an aesthetic centered around embracing the positives that come with witchy practices like spell casting, potion making, herbology, and crystal collecting. Much of these practices are rooted in self-empowerment, so not a bad thing to base a 'core trend off of.
Fashion and style-wise, the overall appearance can go in many directions, but generally, the witchcore aesthetic is brimming with lots of black, flowing clothing, a plethora of jewelry, wild manes, and large-brimmed hats. If you're looking for examples or inspiration, think American Horror Story: Coven, the movie The Craft, or the various incarnations of Sabrina Spellman.
Witchcore, however, is not to be confused with witchcraft. Like many trends, often parts of its aesthetic can be problematic. For those who practice witchcraft or similar spiritual paths, it is possible for them to take offense to casual sage burning and the like. While there is nothing wrong with expressing your interests via hair and fashion, it is always important to recognize where these styles come from, and how you can participate appropriately.
Witchcore Hairstyles
If witchcore sounds like a style you may be interested in, you may be asking yourself how you can make your hair fit the look. Here are some of our favorite witchcore hairstyles to inspire you!
A Most Glamorous Witch
Bella Hadid rocked some major witchy glamour at a recent Versace event. The all-black uniform, dark makeup, and nails pair perfectly with her sleek, deep brunette hair. This look feels very Elvira but smoothed out.
A Sabrina-esque Coif
No matter how you do your hair, pairing your coif with a plethora of black will help sell the witchcore aesthetic. But this slightly waved headband 'do is giving modern Sabrina vibes.
The Bride vs. the Witch
Part Bride of Frankenstein, part witch, this witchcore hairstyle is packed with volume and contrast. We love the blonde block color in the front as it is very reminiscent of the Bride of Frankenstein.
The Wider the Brim, the Better
If styling your hair isn't on your list today, reach for a black, wide-brimmed hat. If you don't own one yet, we highly suggest you invest in one. A wide-brimmed hat is the equivalent of a crown on any witchcore hairstyle.
Your Hair, as It Is
The witchiest thing you can do with your hair is just…wear it, naturally. If witchcore is rooted in self-empowerment, then let your hair run wild and free, as is.
Witchcore Hair Products
Taking care of yourself and your hair is important no matter what 'core trend you subscribe to. But when your hair products match your aesthetic, getting ready feels like a ritual in itself.
Amethyst Hair + Energy Refresher
Aiir Professional's Amethyst infused Hair + Energy Refresher is perfect for any witchcore fan. Simply shake and spray on your hair and/or body. The amethyst infusion helps promote feelings of joy, gratitude, and positive energy within you and your space.
(Image Source: AiirProfessional.com)
Lavender + Clary Sage Hair Oil
The witchy, goddess-inspired imagery on LuLu Organics' packaging should be enough to make you want to buy everything they make. LuLu's Lavender + Clary Sage Hair Oil is perfect for those witches with thick, curly, or frizzy hair. LuLu's uses only certified organic oils and ingredients to help soothe and calm your mane.
(Image Source: LuLuOrganics.com)
Moisturizing Lavender & Tea Tree Shampoo Bar
Three Sisters Apothecary is a favorite amongst witchcore enthusiasts. The Moisturizing Lavender & Tea Tree Shampoo Bar is an apothecary-inspired cleanser that deeply moisturizes using natural botanicals, oils, and essential oils. Perfect for the green witch!
(Image Source: SoapCauldron.com)
Ghost Oil
While there are no actual ghosts in this oil, there is a reason behind the name. This truly weightless hair oil is perfect for smoothing the lengths of any witchcore hairstyle. Fine or thick, this oil truly does the trick.
(Image Source: VerbProducts.com)
Moonlight in Her Hair Lunar Ritual Hair Rinse
$22 at PlantFolkApothecary.com
For the herb nerds and lunar lovers, the Moonlight in Her Hair Rinse is the perfect self-care lunar ritual. A powerful way to connect with yourself and the moon's energies, this rinsing ritual was made to be brewed by moonlight and features marshmallow, jasmine, mugwort, sustainably-grown white sage, and other nourishing herbs.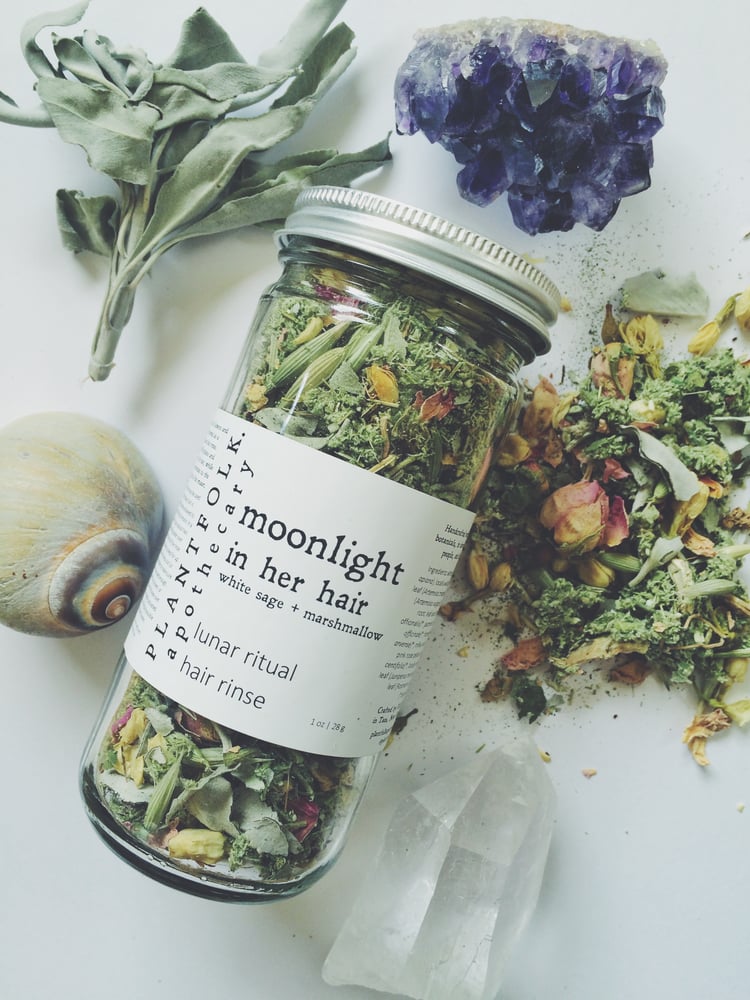 (Image Source: PlantFolkApothecary.com)